Pink and Gold Kids Throne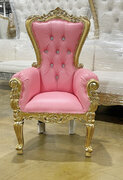 Description
Introducing the Pink and Gold Kids Throne, a luxurious and enchanting addition to any child's Day.
This beautifully crafted throne is designed to make your little one feel like royalty.
The Pink and Gold Kids Throne features a regal pink velvet upholstery, adorned with exquisite gold accents. The plush cushioning provides a comfortable seating experience, ensuring your child feels like a king or queen.