Black Candle Holders (Set of 2)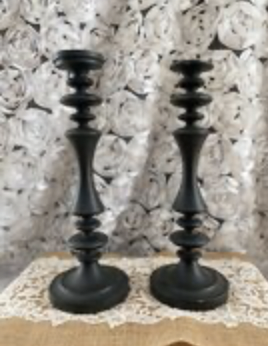 Actual Size: 18"inches tall
Description
Introducing our elegant and stylish Black Candle Holders, a perfect addition to elevate the ambiance of any space. This set of two candle holders stands tall at 18 inches, making them a striking centerpiece or accent piece for your home or event decor.
Crafted with precision and attention to detail, these candle holders boast a sleek and timeless design. The deep black finish adds a touch of sophistication and versatility, seamlessly blending with any interior style - from modern and contemporary to traditional and rustic.
Made from high-quality materials, our Black Candle Holders offer durability and stability, ensuring your candles are securely displayed. The sturdy base provides a solid foundation, allowing you to confidently place your favorite pillar or taper candles.