6ft- Rectangular Tables - (seats 6 to 8 people)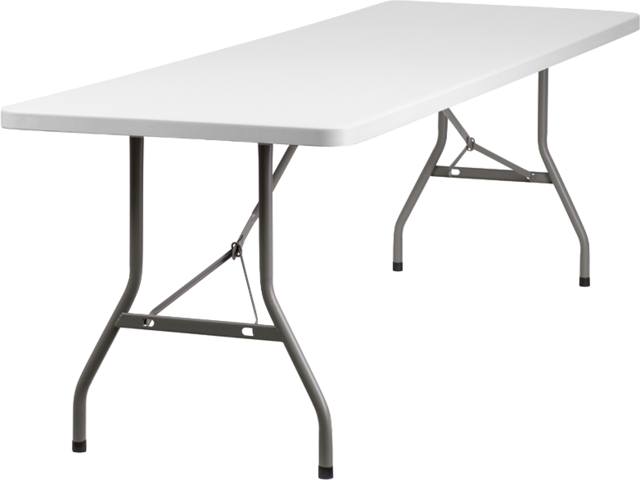 Actual Size: 72" long x 30" wide x 30" h
Description




Our regular 6ft rectangular tables is 72 inches long and 30 inches wide.
These tables seats 6 to 8 people.
The legs fold up to the base of the table.

*Setup and breakdown is not included, can be added for
an additional fee.
Introducing our 6ft Rectangular Tables, the perfect addition to any event or gathering. Designed to comfortably seat 6 to 8 people, these tables offer ample space for dining, socializing, or working.Crafted with durability and style in mind, our 6ft Rectangular Tables are made from high-quality materials that ensure long-lasting use. The sleek and timeless design effortlessly complements any decor, making them suitable for both formal occasions and casual settings.
Whether you're hosting a family dinner, a corporate meeting, or a backyard barbecue, these tables provide the ideal surface for a variety of activities. The generous dimensions allow guests to comfortably enjoy their meals or engage in productive discussions.
Transporting and setting up these tables is a breeze, thanks to their lightweight construction and foldable design. This makes them highly convenient for both indoor and outdoor use, as they can be easily stored and transported when not in use.Invest in our 6ft Rectangular Tables and elevate the functionality and aesthetics of your space. With their versatility, durability, and ability to accommodate a moderate-sized group, these tables are a must-have for anyone in need of practical and stylish furniture.
*Setup and breakdown is not included, can be added for
an additional fee.
Need Linens? We carry many colors/fabrics:

- Half length linens: 60" x 120"

- Floor length linens: 90" x 132"
6ft plastic table rental Los Angeles, Long plastic table for rent Downey,
72 inches rectangular table rental Long Beach,
Serving and delivering to La Habra CA, Lakewood CA, Paramount CA,
Bellflower CA, Norwalk CA, Bell CA, Bell Gardens CA, Montebello CA,
Commerce CA, Vernon CA, Whittier CA, Santa Fe Springs CA, Gardena CA,
Carson CA, South Gate CA, Huntington Park CA, Hollywood CA