Red Velvet Backdrop w/ 4 gold frames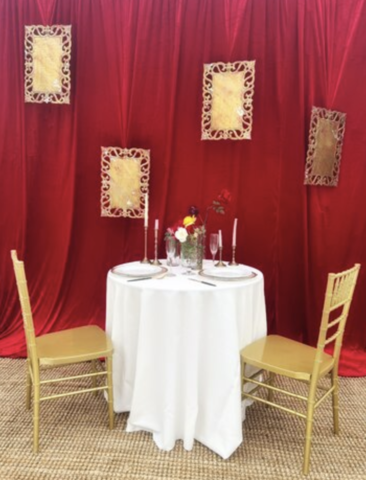 Description
Introducing our stunning Red Velvet Backdrop with 4 gold frames, the perfect addition to elevate the ambiance of any event or photoshoot. This luxurious backdrop exudes elegance and sophistication, making it a standout piece that will leave a lasting impression on your guests.
Crafted with meticulous attention to detail, the Red Velvet Backdrop features a rich and vibrant red hue that adds a touch of opulence to any setting. The plush velvet material not only looks exquisite but also feels incredibly soft to the touch, creating a truly luxurious experience.
To further enhance its allure, we have adorned this backdrop with four exquisite gold frames. These frames add a touch of glamour and provide the perfect accent to the vibrant red backdrop.