10x40 Canopy Full Draped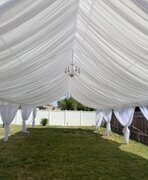 Description
This 10'x40' Canopy is great for small gatherings, outdoor birthday parties, corporate events, church events or any special occasion. Under the 10'x40' tent you can have either (4)-60" round tables with 32 to 40 chairs or (7)-6ft rectangular tables with 42 to 56 chairs.

Delivery fee may apply.

Price Includes:
-top roof
-drapery
-a chandelier
- the installation
(side wall and front & back walls +$10 each)
NOTE: Additional chandeliers are an extra cost.
Special Instructions:
*WE DO NOT set up full draped canopies on dirt*
*set up area needs to be clear of any furniture, trees & tree branches, electrical wires and any items that might prevent the installation.
*Customer is responsible to measure the setup area and to make sure the canopy fits perfectly.